Little did Ellie Porter know that free tickets to a local ice hockey game would change her life. Fast-forward 10 years, she is a youth international and is already playing at the top level in the UK.
The 17-year-old is a regular for Guildford Lightning in the Women's National Ice Hockey League (WNIHL) Elite division, as well as having played at the World Championships for Great Britain. Having accomplished so much already, Ellie could be forgiven for being satisfied with all that she has achieved so far, but she has her sights set on more.
Where it all Began
Ellie's love affair with ice hockey started at the age of seven when her dad took her to watch Peterborough Phantoms, with whom she attended 'learn to play' sessions soon afterwards. The keen youngster has recently started playing for Phantoms Women having come through the youth setup at the club.
"I first started 10 years ago when I was seven," said Ellie. "Peterborough Phantoms came into my primary school and handed out free tickets.
"My dad took me down to the game and from there I wanted to try it out and went straight into the learn to play sessions."
All youngsters that begin playing any sport need to have role models and positive influences to look up to and Ellie is no different, pointing to Great Britain Women's forward Kim Lane and also one of her coaches who has helped her along the way.
"One of my biggest influences, when I was younger, was a Peterborough player called Kim Lane. She was one of the first Great Britain women players to play from Peterborough.
"A coach that has definitely helped me to get where I am is Shaun Prendergast, who gained lots of experience when he was in Canada. When he was coaching us, he would develop all his players as a team."
Olympic Hopes
Ellie has already had a taste of international ice hockey, having been part of several youth squads including representing Great Britain at the U18 Women's World Championship in 2020 (in which she won a player of the match award).
While she refuses to get ahead of herself, Ellie dreams of making history by being part of the first Great Britain Women's team to qualify for the Winter Olympics.
"Just breaking into the team would be a dream of mine," she said. "If I could be in the first team to go to the Winter Olympics, I would be over the moon…but even if I wasn't in the team to first qualify for the Winter Olympics, I would be more than happy."
She added, speaking about the group of girls she plays alongside: "I really hope lots of us will [play for the first team] because I have lots of friends in the Under-18s.
"There are a few of us that are already trialling for the seniors and one of my friends made the team this year. I hope that in the years to come lots of us will get the opportunity to play for them.
"I hope that I will have the chance to play [for the senior team]. I trialled this year and, unfortunately, I didn't make it this year but hopefully in the coming years I will get my opportunity."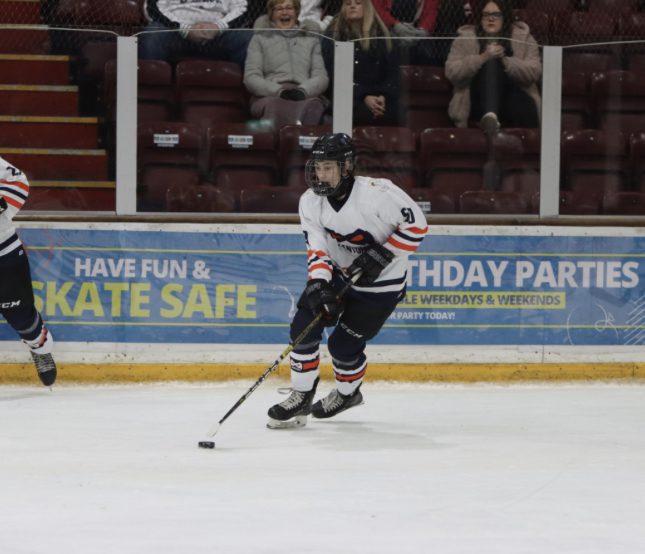 Elite Ice Hockey
While playing for her local club, Ellie also had the opportunity to play games for Haringey Hounds' junior sides, playing their home games at the famous Alexandra Palace in London. It was her involvement with Haringey that brought about the opportunity to make the move to WNHIL Elite side Guildford Lightning, with whom she is in her second season.
"A lot of the girls were looking for Elite teams," she explained. "When they finished playing for Haringey in the Under-16s, the team they were moving over to was Guildford.
"I was in contact with them through some people from Haringey and I stayed there after going for a few sessions."
Ellie added: "It's good to play at the top level in the UK. This is my second full season; the first season was cut short with the lockdown that came in."
Future Goals
While Ellie's sights are currently set on helping Guildford to qualify for the WNIHL's National Championship Finals in June taking place in Widnes, her long-term aspirations could see her make the move across the Atlantic Ocean.
"In 10 years, I'd definitely like to see myself playing for the Great Britain senior squad, but a massive dream of mine would be to play for a team out in America or Canada.
"If I could ever get into the Women's NHL (now renamed as the Premier Hockey Federation) that would be amazing. From the UK, we've only ever had one player…so the chances are slim!"
We look forward to following Ellie's career and keep our fingers crossed that she lives out her dream of representing Team GB at the Winter Olympics. Here at Fen Regis Trophies, we have supplied beautiful sports and trophies to ice hockey clubs and leagues up and down the country.
Please view our online shop or you can get in contact with a member of our team to discuss your requirements.